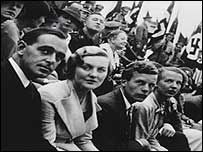 The writer Nancy Mitford spied on her sisters because of their sympathies with Hitler, documents released by the National Archives reveal.
The latest batch of files from the security service MI5 includes a report from January 1941 which says the writer "personally informed the authorities of her sister's (Lady Mosley's) treasonable sympathies.
"The information was given with very good will and is thoroughly reliable."
Lady Diana Mosley married the British blackshirt leader Sir Oswald Mosley and was a friend of Hitler.
A search of her luggage at Croydon airport on one occasion, the files state, turned up a newly signed photograph of him. She was interned in late 1940.