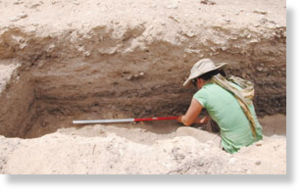 Carbon dating of ancient organic remains from Wadi Debay'an, a site a few kilometres south of Al Zubara on Qatar's north-west coastline, has yielded the earliest yet known date for human occupation in Qatar - 7,500 years before present.
This was revealed by Environmental archaeologist Dr Emma Tetlow of the Qatar National Environment Record (QNER) in a presentation last week to members of the Qatar Natural History Group on recent investigations at Wadi Debay'an.
The QNER is a combined project of the Qatar Museums Authority and the University of Birmingham, UK, directed by Dr Richard Cuttler.
Previous to the work of the QNER, the application of environmental archaeology and geoarchaeology to sites in Qatar has been limited, but now geomorphological and sedimentological data are being used to establish sites which would have been favourable for human occupation. Applying analytical techniques to pollen, macroscopic plant remains and those of insects - Tetlow's special field of research - is revealing fascinating material about the terrain and climate of Qatar seven millennia ago.