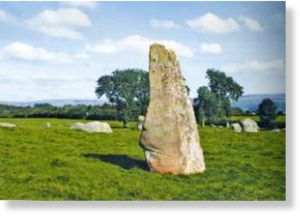 A book which sets out to fill the 'black hole' in Cumbria's prehistoric past has been published by a Cambridge academic.
Dr David Barrowclough, a Fellow in Archaeology, has pulled together decades of research to come up with new interpretations about how ancient Cumbrians lived and why they built some of the most impressive stone monuments in England.
One theory Dr Barrow-clough propounds is that patterns and marks carved on some of the ancient stones, such as Long Meg, in Eden, could have originally been 'map symbols' to guide people from valley to valley.
This early 'rock art' eventually was used to chart the movements of the sun and moon and rituals associated with passing from life to death, says Dr Barrowclough.
His book,
Prehistoric Cumbria
, also suggests that thousands of years ago the Langdale Valley was a centre of 'professional' axe-head production, with part-finished products being manufactured for both local and 'export' trade, overseen by organised groups.