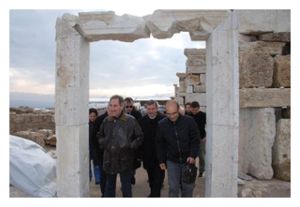 An ancient church mentioned in the Bible has been discovered in western Turkey, according to the head of the excavation.
Culture and Tourism Minister Ertuğrul Günay visited the ancient city of Laodicea on Sunday in Denizli province and was briefed by Professor Celal Şimşek, head of the excavation team. The professor said they have discovered the Laodicea Church, one of the seven mentioned in the Bible. Şimşek said the church from the fourth century A.D. was found by underground radar search, a system they have tried this year for the first time. "The major part of the church, which is built on an area of 2,000 square meters, has kept its original [status]."
Minister Günay said he is very excited about the discovery, adding that archeology in Turkey developed greatly recently and the ministry is supporting academics fully. The minister said the excavations have been running nonstop since the site was transferred to the municipality of Denizli. "This summer we may invite the foreign press and organize a gathering after important steps are taken for renovation and the building is fully unearthed."