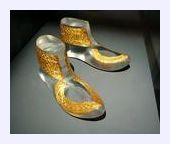 The dig leader and chief of the Baden-Württemberg State archaeology, Dirk Krausse, referred to the discovery as a "milestone of archaeology," according to
The Local.
One reason for the claim is likely the manner of excavation, which is new. In the past, such burial chambers have been dug up piece by piece locally, but now the team lifted the entire burial chamber, measuring four by five square metres (12 by 15 square feet) as one block of earth and placed it on a special truck to be transported to the State Office for the Preservation of Monuments in Stuttgart.
The first results are only expected around June 2011.
The reason for this unusual type of excavation is that scientists want to preserve every scrap of material without exposing it to open air, which can destroy materials like cloth once it has been exposed.
The tomb likely dates from the late
Halstatt Period
of Celtic culture (640-475 B.C.) and has already been found to contain gold and amber jewellery which will make a very exact dating possible. Photos of the finds can be seen
here.