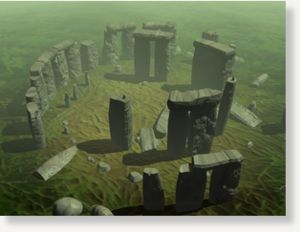 It is a mystery that has baffled geologists and historians for centuries... how were the Stonehenge rocks transported from Wales' Preseli mountains to their resting place 120 miles away.
Scientists are today one step closer to solving the 4,000-year- old mystery after making their most significant discovery in 15 years.
Of the six to eight different bluestone types found in the inner circle of rocks on Salisbury Plain, only one, the so- called "spotted dolerite", was convincingly traced to the Mynydd Preseli area in north Pembrokeshire in the early 1920s.
But modern technology has now assisted geologists at Amgueddfa Cymru - National Museum Wales - in creating a "fingerprint" for one of the other rock types found in Wiltshire.
And that "fingerprint" has been identically matched to stones found in an area north of the Mynydd Preseli range, in the vicinity of Pont Saeson.