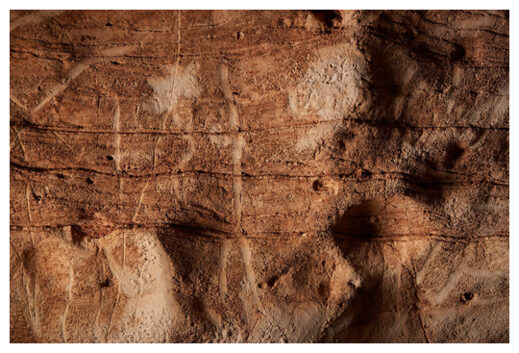 Significant prehistoric rock art has been discovered in La Febro, in southwestern Catalonia.
The team that discovered the art inside Cova de la Vila described it as "exceptional, both for its singularity and excellent state of conservation."
In the Cova de la Vila cave in La Febró (Tarragona), in northeastern
Spain's
region of Catalonia, more than 100 prehistoric engravings have been found, arranged on an eight-meter panel.
According to experts, it is a composition related to the worldview of agricultural societies and farmers of the territory. One of the singularities of this mural is that it is made exclusively with the engraving technique, with stone or wood tools.
The engravings include shapes that resemble horses, cows, suns, and stars.
Julio Serrano, Montserrat Roca, and Francesc Rubinat were the cavers responsible for the discovery; they collaborated with Josep Vallverd, Antonio Rodrguez-Hidalgo, and Diego Lombao, researchers from the Catalan Institute of Human Paleoecology and Social Evolution (IPHES-CERCA), and Ramón Vias, an expert in prehistoric
rock art
.
It was in May 2021, during some scans and topographical work by a group of speleologists in the Barranc de la Cova del Corral, that they discovered the Cova de la Vila, a cavity excavated by Salvador Vilaseca in the 1940s and whose coordinates appear to have been lost.