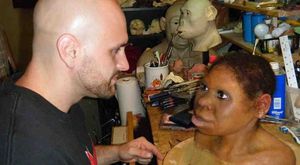 Last year, while a Penn team of archaeologists was working in Morocco, members uncovered a treasure beyond anything they'd imagined - a skeleton of a child from 108,000 years ago.
They don't know what killed him at about age 8, but his remains are believed to be one of the most complete ever found of this period.
The skeleton promises to open a window into a pivotal time in human evolution when Neanderthals still ruled Europe, and Africans were inventing art and symbolic thought.
One of the earliest sites where people left evidence of artwork and symbolism is in Morocco, where a team led by Penn Museum's Harold Dibble found the child.
One of Dibble's students was the first to notice a piece of bone the size of a quarter, said Dibble, who is a curator at the University of Pennsylvania Museum of Archaeology and Anthropology. To everyone's surprise, the bone was part of a remarkably complete skull and upper body of a child that died 108,000 years ago, as shown by various dating techniques.