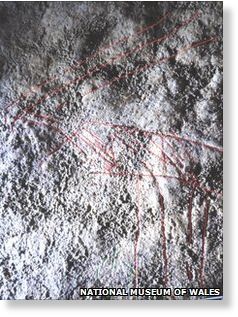 An archaeologist believes a wall carving in a south Wales cave could be Britain's oldest example of rock art.
The faint scratchings of a speared reindeer are believed to have been carved by a hunter-gatherer in the Ice Age more than 14,000 years ago.
The archaeologist who found the carving on the Gower peninsula, Dr George Nash, called it "very, very exciting."
Experts are working to verify the discovery, although its exact location is being kept secret for now.
Dr Nash, a part-time academic for Bristol University, made the discovery while at the caves in September 2010.
He told BBC Wales: "It was a strange moment of being in the right place at the right time with the right kit.