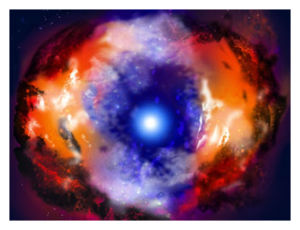 A painting on the arch-door of the 17th century tomb of Sufi saint Syed Mohammad Madni in Srinagar is the "first firm record" of a supernova sighting in India, claim researchers. The mural, which shows two archers, a representation of the Sagittarius constellation, depicts the celestial event dating back to 1604, according to researchers from Homi Bhabha Centre for Science Education, Tata Institute of Fundamental Research and University of Kashmir.
German astronomer Johannes Kepler observed the supernova - a spectacular explosion of a massive star - and described it as an archer in his book
De Stella nova in pede Serpentarii.
The supernova, the last in our galaxy, was subsequently named Kepler's Supernova after him.
The mural at Madni's tomb depicts the same celestial event. The tomb, however, was built 15 years after the event.
"Our research suggests that India also saw the supernova in 1604. It was winter in Kashmir and the sky was bright for weeks," said Aijaz Banday, an archaeologist at Kashmir university's department of Central Asian studies.