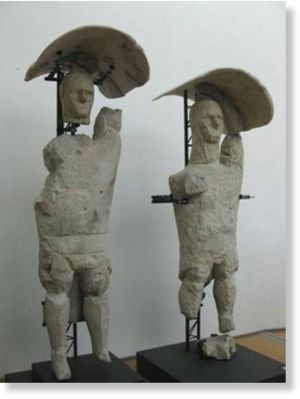 Archaeologists and conservation experts on the Italian island of Sardinia have succeeded in re-assembling literally thousands of fragments of smashed sculpture to recreate a small yet unique army of life-size stone warriors which were originally destroyed by enemy action in the middle of the first millennium BC.
It's the only group of sculpted life-sized warriors ever found in Europe. Though consisting of a much smaller number of figures than China's famous Terracotta Army, the Sardinia example is 500 years older and is made of stone rather than pottery.
After an eight year conservation and reconstruction program, 25 of the original 33 sculpted stone warriors - archers, shield-holding 'boxers' and probable swordsmen - have now been substantially re-assembled.
The warriors were originally sculpted and placed on guard over the graves of elite Iron Age Sardinians, buried in the 8 century BC. The stone guardians are thought to have represented the dead individuals or to have acted as their eternal body-guards and retainers.