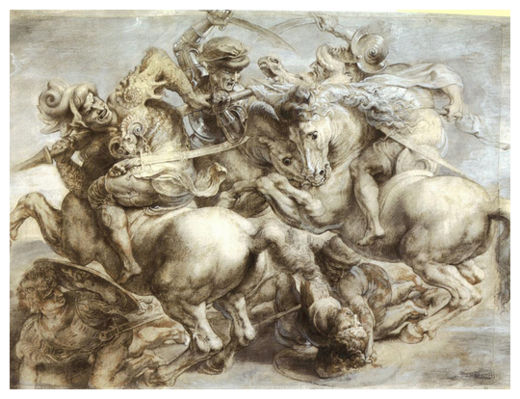 Researchers struggling to solve a longstanding Leonardo da Vinci mystery -- the fate of a lost masterpiece known as the "Battle of Anghiari -- have found intriguing traces of paint hidden behind a 5-inch-thick frescoed wall in Palazzo Vecchio, Florence's 14th-century city hall.
The color is consistent with that used by the Renaissance creator of the Mona Lisa, suggesting that Leonardo's artwork has remained hidden behind that frescoed wall for more than 500 years.
Known as the "Battle of Marciano," the mural was painted by the renowned 15th-century painter, architect and writer Giorgio Vasari (1511-1574) in the imposing Hall of the Five Hundred. The hall was a room built at the end of the 15th century to accommodate the meetings of the Florentine Council.
Right behind that wall could lie one of the biggest discoveries in the history of art, according to art diagnostic expert Maurizio Seracini, director of the Center of Interdisciplinary Science for Art, Architecture and Archaeology at the University of California, San Diego, who has been searching for the lost masterpiece since the 1970s.
Three months ago Seracini's team drilled six tiny holes into Vasari's fresco, inserted a 0.15-inch-wide probe and micro-cameras and collected samples of red, white, orange and black material.
Analysis with a scanning electron microscope revealed the black material had an unusual chemical makeup of manganese and iron.