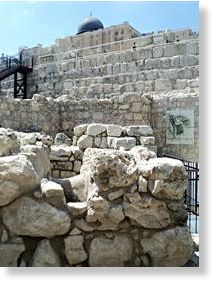 First Temple dig reinforces status of Jerusalem as the true Jewish capital
Claiming one in the eye for the Palestinian trend of "Temple denial", Israeli archaeologists are preparing, for the first time, to open buildings from the First Temple era to the public.
In recent years Palestinians, including leaders of the Western-backed Palestinian Authority, have claimed in growing numbers that there was never a Jewish Temple in Jerusalem.
The new finds mean that not only can Israel cite archaeological evidence of the Second Temple but that it can also boast a major a complex of excavations from the First Temple, built some five centuries earlier.
The new excavations, which will open to the public later this month, give visitors the chance to see, and walk inside, a construction that is thought to have been commissioned by the king who built the First Temple - Solomon.
"This demonstrates the way it all happened and the biblical description is shown very nicely in archaeology," said Eilat Mazar, the Hebrew University archaeologist who uncovered the finds for the Israel Antiquities Authority.
Jerusalem is packed with important historical sights, but until now, if you wanted to explore the city's Jewish history through archaeological excavations, a whole era was missing.