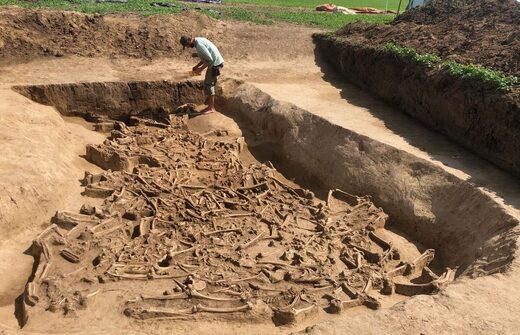 Archaeologists find prehistoric mass grave with headless skeletons Share Archaeologists have found a mass grave site in Vráble, Slovakia,
containing 38 burials who were decapitated
.
Excavations were conducted by a team from the Collaborative Research Centre (CRC) at Kiel University (CAU), and the Archaeological Institute of the Slovak Academy of Sciences, which have been conducting research on the site of Vráble-Ve'lke Lehemby,
one the largest Early Neolithic settlements in Central Europe
.
Vráble-Ve'lke Lehemby was
occupied between 5,250 to 4,950 BC, comprising of 313 houses in three neighbouring villages. The south-western of the three settlements was surrounded by a 1.3 km-long double ditch that likely served as boundary marker
rather than serving any defensive purpose.