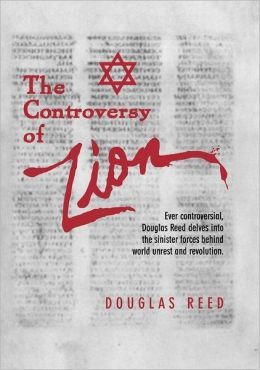 "For it is the day of the Lord's vengeance and the year of recompences for the controversy of Zion."

~ Isaiah 34:8.

"An event has happened, upon which it is difficult to speak and impossible to be silent."

~ Edmund Burke, 1789
In his own time Douglas Lancelot Reed (1895 - 1976) was widely-read. Nowadays he is either pretty much forgotten, or the mere mention of his name evokes outrage among those Establishment experts who have heard of him. The reason for this outrage isn't hard to find: he drew attention to what he saw as a Jewish conspiracy to dominate the world, and wrote about its history at length in his book
The Controversy of Zion
. This was completed in 1956 - but not submitted for publication until 1978, two years after his death.
In the obituary for him which appeared in
The Times
, Douglas Reed was described as a "virulent anti-Semite". A careful reading of
The Controversy of Zion
, however, shows this to be questionable - even though Reed himself may on occasion have described himself as a writer of anti-Semitic material. In saying that, Reed seems rather to have been referring to his ardent anti-Pharisaism, anti-Talmudism and anti-Zionism. He doesn't however seem to have been an anti-Semite, in the sense of being a hater of Jews, as there are many, many instances where he shows considerable sympathy for ordinary rank-and-file Jews.