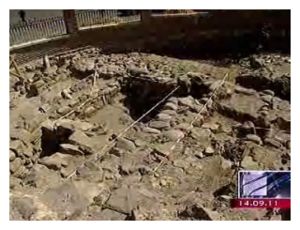 While exploring the vicinity of the 40 martyrs' church, Georgian archaeologists have discovered the remains of an ancient mother-fortress at the Metekhi Bridge, located in the old part of Tbilisi. This find could potentially change the historical date that Tbilisi was actually founded.
Scientists found that layers of the ancient palace date back to an earlier period than current historical records suggest. It is during the reign of King Vakhtang Gorgasali that Tbilisi was previously believed to have been founded. They also found the fence of the fortress, which dates back to the fourth century. This discovery confirms the version that the territory of current Tbilisi was populated before the era of the King Vakhtang Gorgasali.
"This discovery may completely change the history of the founding of Tbilisi, as these ancient constructions existed before Gorgasali discovered hot water and ordered the construction of a city there," Merab Dzneladze, instructor of the ongoing archaeological expedition told Georgia Today.
Scientists also discovered ancient baths there, which they say were constructed in the first and second centuries AD. Scientists are also exploring several dishes and some jewelry that was found in the sepulcher of an 11-12 year-old girl.