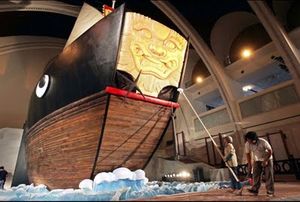 Did the Chinese come to East Africa before the Europeans? China says yes, as do a growing number of Western historians. To prove the theory, Chinese and Kenyan archaeologists are now searching the African coast for the fabled wreck of a Ming dynasty junk - an ancient Chinese sailing vessel - from the fleet of legendary 15th-century explorer Zheng He.
A new report, obtained by GlobalPost, reveals that the researchers have identified several shipwrecks of interest off the Kenyan coast near the World Heritage site of Lamu.
Despite years of excitable hype by China's state media, the underwater archaeologists involved in the search are warning that the newly discovered wrecks could be from any era or country - and even if a sunken Chinese ship is found, it may no longer be intact or even identifiable.
Some reports in the Chinese and Kenyan media have implied that the wreck of a ship from Zheng He's fleet has already been found - and by extension, irrefutable historical proof that Chinese explorers visited Kenya before the Europeans. Evidence that China had friendly trading relations with Africa before the colonialists arrived would add luster to the Asian giant's rapidly expanding presence on the continent.