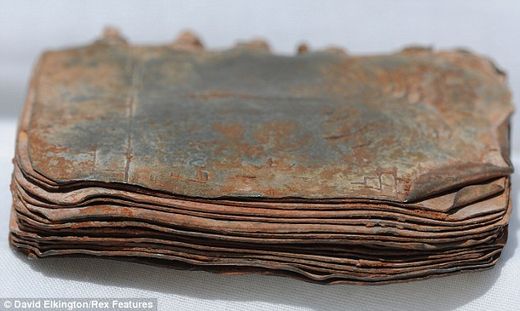 For scholars of faith and history, it is a treasure trove too precious for price.
This ancient collection of 70 tiny books, their lead pages bound with wire, could unlock some of the secrets of the earliest days of Christianity.
Academics are divided as to their authenticity but say that if verified, they could prove as pivotal as the discovery of the Dead Sea Scrolls in 1947.
On pages not much bigger than a credit card, are images, symbols and words that appear to refer to the Messiah and, possibly even, to the Crucifixion and Resurrection.
Adding to the intrigue, many of the books are sealed, prompting academics to speculate they are actually the lost collection of codices mentioned in the Bible's Book Of Revelation.
The books were discovered five years ago in a cave in a remote part of Jordan to which Christian refugees are known to have fled after the fall of Jerusalem in 70AD. Important documents from the same period have previously been found there.
Initial metallurgical tests indicate that some of the books could date from the first century AD.