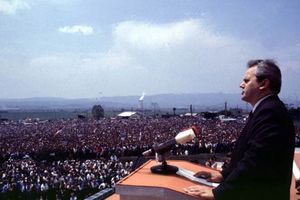 A couple of months ago I chanced upon the Emperor's Clothes Website.
I noticed their startling claim that we have been systematically lied to about Yugoslavia, including Slobodan Milosevic. As they told it,
he was not guilty of racist incitement and genocide; rather he advocated multiethnic peace
. Since their views sharply contradicted my own, I started systematically checking their references by obtaining the relevant original documents.
I have yet to find a single claim in error.
This was particularly surprising regarding the famous speech that Slobodan Milosevic delivered at Kosovo Field in 1989 at the 600th anniversary of the Battle of Kosovo.
According to what I had read, this was an ultranationalist diatribe in which Milosevic manipulated memories of a famous defeat to stir mob hatred of Muslims, especially Albanians.
Emperor's Clothes posted what they claimed was
the official U.S. government translation of that speech
, which they attributed to the National Technical Information Service, a dependency of the Commerce Department.
The posted speech was certainly not hateful.