Scientists have found that the Neanderthal fell down into the cave thousands of years ago - believing the person starved to death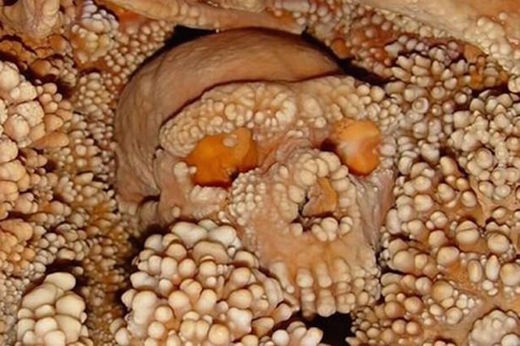 It was a gruesome death that is the stuff of most people's nightmares. Now scientists have identified the unfortunate individual whose bones were found fused to the walls of a cave in Lamalunga, near Altamura, in southern Italy.
Using analysis of DNA extracted from the bones sticking out from the limestone rock, researchers have found he was a Neanderthal who fell down a sinkhole around 150,000 years ago. Genetic analysis of the bones (above) of 'Altamura Man', found entombed in limestone in a cave in Altamura, Italy, has revealed that they belong to a Neanderthal who fell into the cave 128,000 to 187,000 years ago
Wedged in the narrow space and probably badly injured, he is thought to have starved to death.
Over the thousands of years that followed, the body decayed and the remaining bones gradually became incorporated into the stalactites left behind by water dribbling down the cave walls.
The DNA is the oldest to ever be extracted from a Neanderthal and the researchers now hope to further analyse the genetic information from the skeleton.