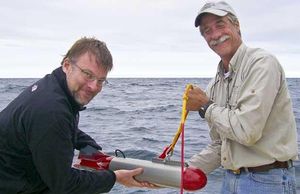 Guided by computer simulations that reconstruct a lost world now lying at the bottom of Lake Huron, a team of scientists is preparing to search this spring for ancient artifacts along an underwater ridge that straddles the U.S.-Canada border - a place the researchers believe was a caribou-hunting hot spot about 10,000 years ago for some of the earliest inhabitants of North America.
The planned probe of the Alpena-Amberley Ridge - named for the Michigan and Ontario towns that respectively mark the western and eastern ends of the 160-kilometre-long lake bottom feature - is expected to involve remotely operated sonar devices for mapping the underwater terrain, as well as a team of scuba divers to comb the long-submerged landscape in search of spearheads and other signs of hunting activity from the end of the last ice age.
University of Michigan researchers first announced in 2009 that they'd discovered rock formations along the drowned ridge that appeared eerily similar to well-documented caribou-hunting structures used in prehistoric times by the "Paleo-Indian" peoples who once occupied Canada's Arctic and sub-Arctic territories.
Now under about 35 metres of water, the Lake Huron ridge was once a 16-km-wide upland corridor in a lake-dotted landscape that linked caribou wintering grounds in the south to their summer ranges in present-day Northern Ontario and beyond.
"Scientifically, it's important, because the entire ancient landscape has been preserved and has not been modified by farming, or modern development," project leader John O'Shea, a University of Michigan archeologist, said when the rock structures were discovered. "That has implications for ecology, archeology and environmental modelling.''