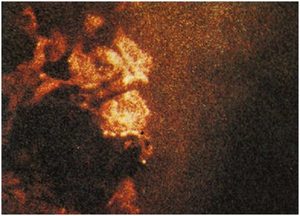 Just before 7 o'clock on the evening of Friday 29 August 1975 the telephone at my home in Leeds rang. An American voice inquired: 'Mr Nick Witchell? Transatlantic call for you from the United States.' After a short pause Bob Rines came on the line to announce news that meant the search for the 'Monster' of Loch Ness was finally over. 'Nick,' his voice came clearly and steadily over the thousands of miles, 'we've got it, we've hit the jackpot. We have detailed close-up colour photographs of the head, neck and body of one of the animals.'
Thus spoke Robert Rines to Nicholas Witchell as found in Witchell's "The Loch Ness Story". It is what I would call the summit of Monster Fever or perhaps we could call it "Peak Nessie". It was back in 1975 when rumours began to appear on the TV and newspapers that ground breaking photographs of the Loch Ness Monster were about to be revealed to the world.
Nicholas Witchell had already published the first edition in hardback of his book the year before and this news made it easy for Penguin Books to go to paperback with a new and final chapter entitled "The Solution". Reading that postscript gives one the impression that this was the last cryptozoological book on the creature. The next one would be zoological. Clearly that never happened, so what went wrong?