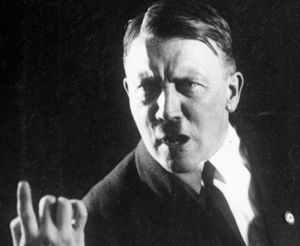 Adolf Hitler farted uncontrollably, used cocaine to clear his sinuses, ingested some 28 drugs at a time and received injections of bull testicle extracts to bolster his libido.
The startling revelations come from Hitler's medical records, now up for auction at Alexander Historical Auctions of Stamford, Conn. (The full catalogues can be found here and here.)
Bidding for the documents -- which include 10 X-rays of various views of the dictactor's skull, the results of several EEG tests and sketches of the inside of his nose -- ends Tuesday and Wednesday.
The cache consists of a 47-page account compiled by his six chief physicians, each specializing in different areas of treatment, and a 178-page report dated June 12, 1945, which was compiled by Dr. Erwin Giesing, while he was interned by American forces.
The U.S. military commissioned the medical reports provided by Hitler's personal doctors, Bill Panagopulos, president of Alexander Autographs, told the
New York Daily News.
Though there is no official document regarding Hitler's love of cocaine, Giesing wrote that the dictator inhaled powdered cocaine to "clear his sinuses" and "soothe" his throat. Since he had begun to "crave" the drug, his dosage had to be lowered, Giesing wrote.
The documents reveal another unflattering aspect of Hitler's life: der Führer "suffered from uncontrollable flatulence."