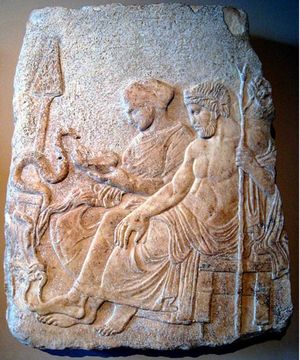 Archaeologists in Greece have excavated an ancient healing temple in the acropolis of Feneos dedicated to Asclepius, god of healing. Along with the foundations of the sacred temple, researchers also found an enormous statue of Asclepius, and his daughter Hygeia; an elaborate mosaic floor, marble podiums, and offering tables.
International Business Times
reports that the 2,400-year-old temple, known as Asclepion (a healing temple dedicated to the god Ascelpius) was first discovered in 1958. However, archaeologists have only recently carried out extensive excavations of the site and have been able to piece together the layout of the site, as well as unearth numerous important artifacts.
Asclepius, the God of Healing
Asclepius, a son of Apollo, was a god of medicine in ancient Greek mythology. We are all familiar with Asclepius in a way, since the symbol that is used for medicine, the snake entwined staff, was the rod of Asclepius. According to mythology, Asclepius was brought up by the mysterious figure of ancient Greek mythology, the centaur Chiron, who raised Asclepius and taught him about the art of medicine. Because Asclepius used his powers to bring people from Hades (meaning resurrecting them), the God of Hades complained to Zeus because Asclepius converted many people from humans to immortals. The result was for Zeus to kill Asclepius with thunder.