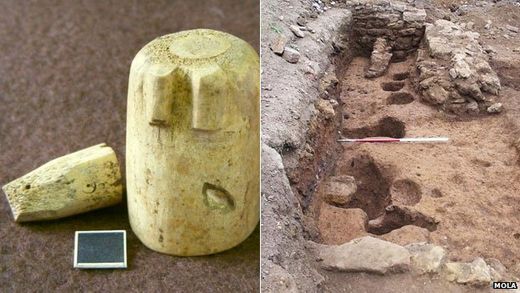 Archaeologists have found two Medieval chess pieces made from antler during the final stages of a dig in Northampton town centre.
The excavation is at St John's Street, at the location of Northamptonshire County Council's new £43m headquarters.
Archaeologist Jim Brown said the pieces were "clear evidence" of demand for a "leisure product" in middle to late 12th Century Northampton.
The dig has now been completed and the finds will eventually go on display.
The larger piece was probably intended to be a bishop and is 60mm (2.3in) high, while the second piece was the top part of a king and is about 30mm (1.2in) high.
Mr Brown, from the Museum of London Archaeology, said the chess pieces were found among bone and antler off-cuts, and appear to been discarded during their manufacture.