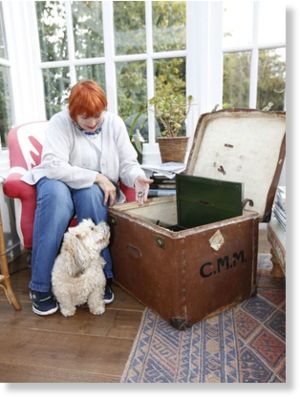 Another Agatha Christie mystery is solved: Now we know what happened to her lost diamonds, and the lucky finder gets to keep the riches.
Fans of the best-selling novelist of all time - 2 billion books sold and counting, according to
Guinness Book of World Records
- are agog Friday about news that her pricey baubles, discovered in one of her antique trunks, are up for auction in London.
On Oct. 8, Bonhams will sell some $22,000 worth of Christie's jewelry, including a diamond brooch and a three-stone diamond ring dating from the 19th century.
Long thought to be lost, the story of how the jewels were found is as twisty as some of Christie's addictive crime novels.
An Englishwoman and devoted Christie fan, Jennifer Grant, who will be the recipient of at least a portion of the proceeds from the sale, went to Greenway, Christie's beloved home in Devon, for an estate sale in 2006. There, she paid about $170 for an old travelling trunk that had belonged to Christie's mother. When she got it home, she found it contained a locked strongbox bolted to the base of the trunk.