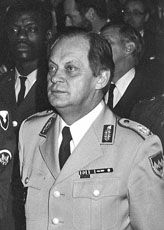 Ex-head of MAD reveals shocking details of the 1949 US-German secret treaty
Top intelligence officers rarely reveal secret strings, pulling the nation's political mechanism. Publication of a book like The German card. The obscure game of secret services, authored by Gerd-Helmut Komossa (Gerd-Helmut Komossa.
DIE DEUTSCHE KARTE. Das verdeckte Spiel der geheimen Dienste
.
Ares-Verlag
, Graz 2007. - 230 S.), is an exceptional occurrence. Raising very sensitive issues, the author appeals to the core of German identity that had been deliberately suppressed for decades by the United States and its allies.
The book is focused on contradictions between the United States and Germany, sometimes very strong but not supposed to be discussed in public. It was published in Austria, and its distribution in Germany may encounter certain difficulties today. Still,
the very fact of its appearance indicates that the German intelligence community is increasingly dissatisfied with the role of a vassal of the United States (the definition applied to Europe by Zbigniew Brzezinski), imposed on Western Germany after World War II.