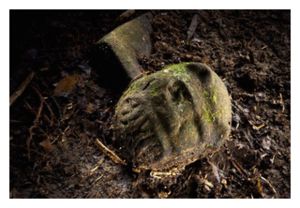 A team of archaeologists has reportedly discovered a lost city deep within the remote jungles of Honduras - a lost city that had never been explored founded by a culture we know little about.
As first reported by
National Geographic
on Monday, Christopher Fisher, an archaeologist from Colorado State University, and his colleagues traveled to the site based on long-standing rumors that it was the location of a city referred to in legend as the "City of the Monkey God."
Cult of the Were-Jaguar?
The city, which belonged to a culture so mysterious that experts have not even found a name for it, was extensively mapped by Fisher's team, who found plazas, earthworks, mounds and even an earthen pyramid at the site, according to the website. The expedition, which lasted through last Wednesday, also uncovered a collection of stone sculptures and dozens of artifacts.
In the article, Fisher called the find "incredibly rare," especially since it was in perfect condition and had not been targeted by looters. He went on to speculate that the statues, which were found at the base of the pyramid, were "a powerful ritual display" and most likely an offering.
Among the more than 50 artifacts found there included ceremonial seats known as metates and carved vessels that had been decorated with snakes, vultures and other figures. One of the finds was the head of what the archaeologists believe was a "were-jaguar" sticking out of the ground. It is believed to be depicting a shaman in a transformed-spirit like shape,
National Geographic
said.
The research team believes that many more artifacts have been buried underground at potential burial sites, and many of the objects discovered were catalogued but not excavated. The lost city was first identified during an aerial survey of the La Mosquitia region in 2012, the report noted, and in order to protect the ruins from looters, their exact location is not being disclosed.