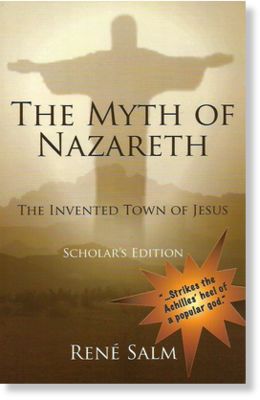 Good morning. This presentation will be divided into two parts. The first part will consist of a brief survey of the most significant material finds from the Nazareth basin as they relate to the possible existence of a settlement there at the turn of the era. The second part will briefly discuss the question of "pious fraud" as this may relate to the history of Nazareth archaeology.
First, however, I would like to preface these remarks with a little background on myself and on some false assumptions regarding my work.
You may be aware that I wrote a book called
The Myth of Nazareth: The Invented Town of Jesus
. It was published in 2008 by American Atheist Press. The book required eight years of research and has over 800 footnotes, seven appendices, and a bibliography that extends to hundreds of works. It's major thesis has since met violent and sustained opposition from scholars of virtually every stripe. The evidence in the book, however, has not yet been contradicted.
Not being an archaeologist myself, I am often asked: "How can you date evidence, Mr. Salm?" or: "How can you presume to correct professional archaeologists?" or: "How can you have any opinion on these matters?" However, there is a misunderstanding inherent in these questions, for I have never dated anything at all. I have simply identified the relevant archaeological experts and quoted their published datings: Hans-Peter Kuhnen on kokhim tombs, Varda Sussman on bow-spouted oil lamps, Roland Deines on Jewish stone vessels, Amos Kloner on circular blocking stones, and so on. The case regarding Nazareth does not rest on my opinion at all. A
nyone who disagrees with
The Myth of Nazareth
is not disagreeing with me but is taking issue with the leading archaeological experts in the world. As we shall see, this is fatal for traditional conclusions regarding Nazareth.