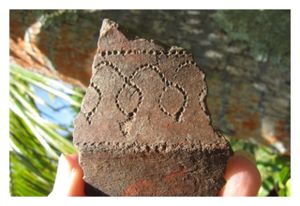 It only took a generation or two for the first settlers of Polynesia to spread from their original colonisation site in Tonga, a new study has found.
The rapid spread could have been driven by resource depletion and sibling rivalry, says archaeologist Professor Marshall Weisler of the
University of Queensland
.
"We now have a precise chronology for the settlement of Tonga and the radiating out and occupying the islands of Tonga," says Weisler.
"Within one human generation or so the first settlers explored the rest of the archipelago and put down additional daughter communities."
In 2012, Weisler worked with Professor David Burley of Simon Fraser University to establish that the first humans to colonise the Pacific arrived at Nukuleka, on the Tongan island of Tongatapu, around 2838 years ago.
Their conclusions were based on uranium isotope dating of coral abraders used by the Lapita people to make fish hooks, ornaments and tools.
Now, in a paper published in
PLOS ONE
, Weisler and colleagues have got a picture of how long it took the Lapita to spread to other islands in Tonga, and how long daughter populations stayed in touch with the founder population.
The researchers dated 65 samples (including coral abraders, animal bones, shell tools and charcoal from ovens) from 20 Lapita sites across the Tongan archipelago.