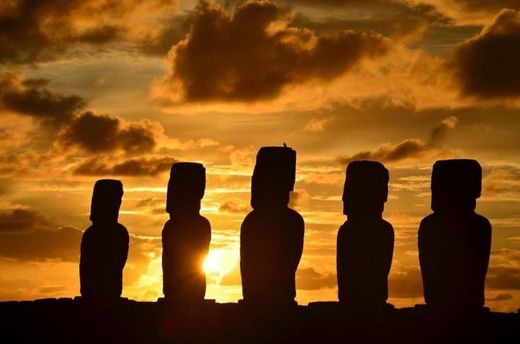 People may have been making their way from Easter Island to the Americas well before the Dutch commander Jakob Roggeveen arrived with his ships in 1722, according to new genomic evidence showing that the Rapanui people living on that most isolated of islands had significant contact with Native American populations hundreds of years earlier. The findings reported in the Cell Press journal Current Biology on October 23 lend the first genetic support for such an early trans-Pacific route between Polynesia and the Americas, an impressive trek of more than 4,000 kilometers (nearly 2,500 miles).
The findings are a reminder that "early human populations extensively explored the planet," says Anna-Sapfo Malaspinas from the Natural History Museum of Denmark's Centre for GeoGenetics. "Textbook versions of human colonization events -- the peopling of the Americas, for example -- need to be re-evaluated utilizing genomic data."
On that note, a second article that will appear in the same issue of
Current Biology
by Malaspinas along with Eske Willerslev and their colleagues examined two human skulls representing the indigenous "Botocudos" of Brazil to find that their genomic ancestry is Polynesian, with no detectable Native American component at all.