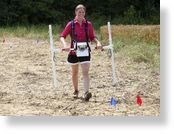 Here once was the home of American Indians with a culture far removed from the tepees, wigs and wigwams of TV Indians.
A village slowly being unearthed on the Ames Plantation was a distant neighbor to Memphis' Chucalissa Indian Village. The residents were among hundreds of Mississippian Culture villages along the waterways of the Mississippi River Valley.
"In many ways their surroundings would be like a church today," says Ames cultural resource manager Jamie Evans.
A multitheistic society, the American Indians worshipped the sun, trees, land and water. In the end, they may have been punished by the same forces and driven away.
Their fate is one of the questions University of Memphis archaeology professor Andrew Mickelson ponders when he brings students to the site beside the north fork of the Wolf River for field work each summer. The students dig, scrape and filter soil through mesh screens in search of any shard or fragment that might hold a clue to how the Indians lived and why they left.
The eight-acre site had been used for cash crops at Ames until Mickelson asked to visit in 2009. He knew of a mound complex with four mounds discovered at the site in the 1960s and suspected there must be more.