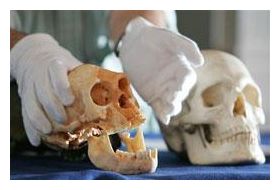 Homo floresiensis,
dubbed the 'hobbit' of Indonesia, is once again igniting debate. A skull-scanning study supports the idea that the diminutive individual was not a separate species, but simply a stunted human.
The study is published today in the
Proceedings of the National Academy of Sciences.1
But other anthropologists are far from impressed with the analysis, claiming that 'hobbit politics' is yet again clouding the debate.
The 18,000-year-old fossil stunned the anthropology community when it was discovered in a limestone cave on the Indonesian island of Flores in 2003. The young adult female lived relatively recently, yet was unlike any other hominid species known - she was only a metre tall, with long limbs relative to her torso and a tiny cranium compared with the modern humans living elsewhere on the planet at the time. She was reported in Nature as a new and completely unexpected species of human:
H. floresiensis.2
Researchers have since clashed over whether the skull really does represent a different species or merely a deformed
Homo sapiens
- perhaps the result of dwarfism or microcephaly, a developmental disorder that results in a very small skull and brain.