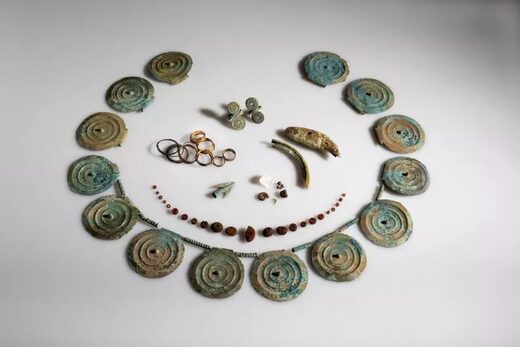 A hoard of "very rare" Bronze Age jewelry unearthed in Switzerland is described by one expert as a "sensational" discovery.
The hoard includes
a necklace made of bronze spiked discs, two finger rings, gold wire spirals and more than 100 tiny amber beads. It also contains several more unusual finds, such as a rock crystal, a beaver tooth, a perforated bear tooth, a bronze arrowhead, a few lumps of polished iron ore, a small ammonite shell and a fossilized shark tooth
, among other items.
The hoard, which is t
hought to date to around 1500 B.C., or roughly 3,500 years ago
, was discovered in August by an amateur archaeologist named Franz Zahn in a freshly plowed carrot field in the municipality of Güttingen in northeastern Switzerland.
Zahn immediately reported the find to the canton of Thurgau's Office of Archeology (OA), which arranged for experts to document and recover the artifacts the next day.