A couple from Buffalo found a gigantic 35-foot section of a petrified tree which is part of a
buried 60-million-year-old prehistoric forest of metasequoia, a type of redwood
that thrived in Wyoming and could grow as tall as 160 feet.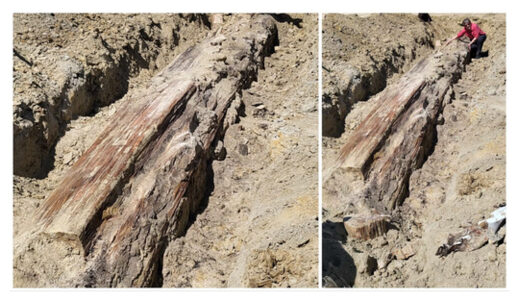 Jeanne Peterson and her husband, Robert Suchor, weren't expecting any tree problems when they started building an RV park outside Buffalo, Wyoming. There were no trees on the property — or so they thought.
Turns out there were some huge trees, they just weren't growing up from the ground. The couple instead found a 60 million-year-old petrified forest of some of the most giant trees that ever lived in Wyoming.
When they started building their home, Peterson and her husband found pieces of petrified wood and roots on the property, but nothing large enough to cause concern. But as they dug further, they found a forest.
"We started to find trees sticking out of the side of the hill," she told Cowboy State Daily. "Multiple trees. There's petrified wood everywhere around us."
When large earth movers were brought in to excavate infrastructure for an RV campground, Peterson had a hunch they would find something much larger. It was branching out at their feet.
"On the surface, we could see branches, which is just crazy. You could see where it branched out on both sides," she said.
Now, a 35-foot-long section of a prehistoric tree has been exposed, its trunk well over a foot in diameter. Another section of indeterminate length is still buried.
The tree is fully fossilized, but the texture of its bark is clearly visible. It's an artifact from a prehistoric age when Wyoming was warmer, wetter and covered with towering trees like these.