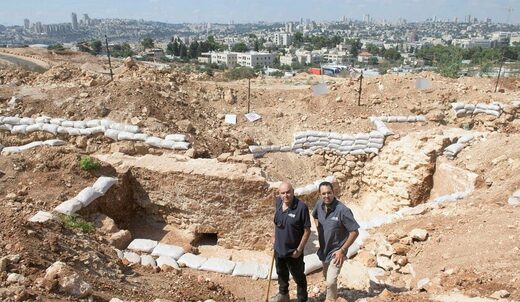 An archeological salvage dig in East Jerusalem that was carried out in advance of the construction of a new neighborhood has uncovered a 3-kilometer (1.8-mile) stretch of ancient Jerusalem's upper aqueduct.
Researchers have attempted for about 150 years to decipher the secret of
how the ancient city's huge water system
brought water to Jerusalem during the Second Temple period (which ended in the year 70) and on into the late Roman period. In its time, it was the largest network of water infrastructure in the country.
Experts know about two aqueducts from those periods:
the lower aqueduct, which supplied the Temple, and the upper aqueduct, which suppled the upper city
- where the Jewish Quarter and the Armenian Quarter of the Old City are now situated. The two aqueducts carried water over considerable distances from Solomon's Pools in the Bethlehem area into Jerusalem's city walls. Small sections of aqueduct were discovered over the years, but the debate about their precise route - and particularly when they were built - continues.