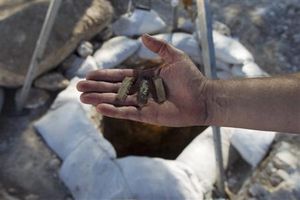 Israeli archaeologists are scratching their heads over a possible 8,500-year-old murder mystery after discovering two skeletons at the bottom of an ancient well.
Flint sickle blades and arrowheads found in the eight-meter (26 foot)-deep Stone Age well in the Jezreel Valley in Israel's Galilee region, suggest it was used by the area's first farmers.
But archaeologists cannot explain why the skeletal remains of a woman, believed by archaeologists to have been aged about 19, and those of an older man were also uncovered deep inside the now-dry well.