An archaeological research team in Northumberland has unearthed a medieval hall underneath Bamburgh Castle.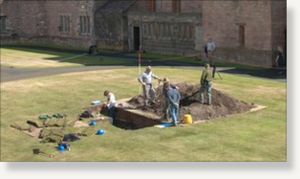 Bamburgh Castle Research Project dug up a small trench under the inner courtyard at the core of the castle and discovered an Anglo-Saxon hall.
The team believes that the discovery probably dates back to medieval times.
The dig was carried out after the researchers invited Channel 4's Time Team to the castle to help them with their latest archaeological project.
Graham Young, Director of Bamburgh Castle Research Project, said: "Although it's a small trench, because we've seen rock-cut structural features elsewhere, we can fit that into a background.
"We know it's occupied, it's written about in contemporary texts so it's fascinating to see the actual material itself, the archaeology."