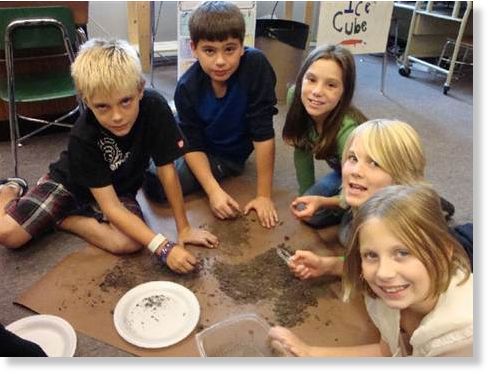 Earlier this year, Linda Azaroff's fourth-grade class received a 2.2-pound (1-kilogram) box containing what one student described as a "clump of dirt."
But this wasn't just any dirt - it was sediment, or matrix, collected from a backyard in Hyde Park, N.Y., in 2000, where a project to deepen a backyard pond uncovered the remains of a mastodon -
an extinct elephantlike animal
. Working under a deadline, but not wanting to miss any important pieces, excavators carted away about 22,000 pounds (10,000 kg) of matrix from around the bones, more than they could realistically sort through in the years to come.
The excavators turned to
citizen scientists
volunteering for the Mastodon Matrix Project, which enlists school classes, hobbyists, families and other volunteers scour the matrix from mastodon excavations. Since 2008 alone, more than 3,500 participants from around the U.S. have worked on matrix from Hyde Park.
"One of the huge limiting things form a scientific standpoint is we often don't have the staff time either from interns or scientists themselves to go through all of this stuff," said Carlyn Buckler, an education and outreach associate at the Paleontological Research Institution (PRI), which operates the Mastodon Matrix Project. "The more data we can get, the more complete a picture we will come up with about the environment."
This approach isn't unique; students and other citizen scientists can contribute their time and effort to a variety of projects, from
recording road kill
to counting stars. In return, volunteers get hands-on experience with science and the chance to contribute to real research projects.