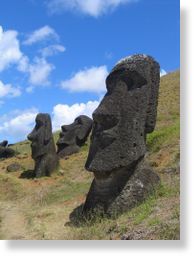 Easter Island is branded into popular consciousness as the home of the mysterious and towering moai statues, but these are not the only curiosity the South Pacific island holds. Where the moai are fascinating for their unknown purpose and mysterious craftsmen, the island's lost language of
Rongorongo
is equally perplexing.
The unique written language seems to have appeared suddenly in the 1700s, but within just two centuries it was exiled to obscurity.
Known as
Rapa Nui
to the island's inhabitants, Rongorongo is a writing system comprised of pictographs. It has been found carved into many oblong wooden tablets and other artifacts from the island's history. The art of writing was not known in any nearby islands and the script's mere existence is sufficient to confound anthropologists. The most plausible explanation so far has been that the Easter Islanders were inspired by the writing they observed in 1770 when the Spanish claimed the island.
However, despite its recency, no linguist or archaeologist has been able to successfully decipher the Rongorongo language.