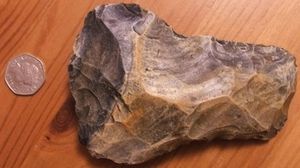 A Palaeolithic handaxe has been found by a local walker on an Orkney beach.
An "incredibly rare" pre-Ice Age handaxe which may have been used to kill woolly mammoths, has been found on an Orkney beach.
The Palaeolithic - or Old Stone Age - tool, which could be anything between 100,000 and 450,000 years old, is one of only ten ever to be found in Scotland. The axe, which was found on a stretch of shore in St Ola by a local man walking along the beach, is the oldest man-made artefact ever found in Orkney.
The stone tool, which is around five-and-a-half inches long, has been broken, and originally would have tapered to a point opposite the cutting edge, but at some point in time, the point broke off and someone reworked the flint to its present straight edge.
Orkney-based archaeologist Caroline Wickham-Jones, who has studied the axe, described its discovery as "incredibly exciting".
Ms Wickham-Jones, who a lecturer in archaeology at Aberdeen University, said: "This axe is definitely older than 100,000 years - so old it's become geology.