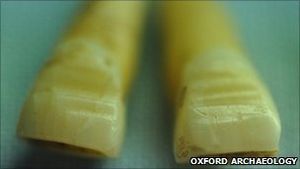 Archaeologists have discovered one of the victims of a suspected mass Viking burial pit found in Dorset had grooves filed into his two front teeth.
Experts believe a collection of bones and decapitated heads, unearthed during the creation of the Weymouth Relief Road, belong to young Viking warriors.
During analysis, a pair of front teeth was found to have distinct incisions.
Archaeologists think it may have been designed to frighten opponents or show status as a great fighter.
Oxford Archaeology project manager David Score said: "It's difficult to say how painful the process of filing teeth may have been, but it wouldn't have been a pleasant experience.