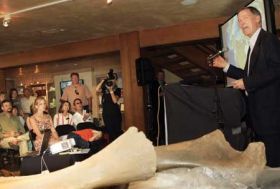 Theories abound about how the scores of prehistoric animals unearthed at Ziegler Reservoir - including the most mastodons ever found in one site - all met their fates in the same place.
Gov. John Hickenlooper has his own: "I think it was the huckleberries, a rare type," he said, drawing laughs during a press conference Thursday in Snowmass Village.
The governor and Dr. Kirk Johnson of the Denver Museum of Nature & Science addressed reporters and members of partner organizations as part of the wrap-up of a dig unprecedented in state history. After nearly 70 days of digging, the museum announced what Johnson, its chief curator, called a "staggering" total of 4,826 bones.
"It is a true treasure trove and is one of the finest mastodon sites in the world," Johnson said. "We have crushed Boney Springs," a site in Missouri where 31 individual mastodons were found.