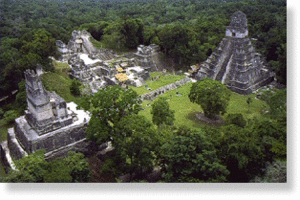 Decades of extreme weather crippled, and ultimately decimated, first the political culture and later the human population of the ancient Maya, according to a new study by an interdisciplinary team of researchers that includes two University of California, Davis, scientists.
The collapse of the Maya is one of the world's most enduring mysteries. Now, for the first time, researchers have combined a precise climatic record of the Maya environment with a precise record of Maya political history to provide a better understanding of the role weather had in the civilization's downfall.
Their findings are published in the Nov. 9, 2012 issue of the journal
Science
.
"Here you had an amazing state-level society that had created calendars, magnificent architecture, works of art, and was engaged in trade throughout Central America," said UC Davis anthropology professor and co-author Bruce Winterhalder. "They were incredible craftspersons, proficient in agriculture, statesmanship and warfare - and within about 80 years, it fell completely apart."
To determine what was happening in the sociopolitical realm during each of those years, the study tapped the extensive Maya Hieroglyphic Database Project, run by UC Davis Native American Language Center director and linguist Martha Macri, a specialist in Mayan hieroglyphs who has been tracking the culture's stone monuments for nearly 30 years.
"Every one of these Maya monuments is political history," said Macri.