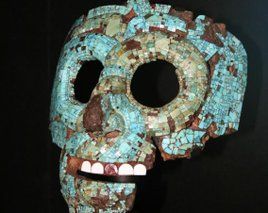 Azul Maya, or Maya Blue, is a vibrant color that was created and used by the classic and post-classic Maya civilizations more than 1700 years ago, and which is still evident in Mayan ruins and archeological treasures.
The pigment was used to decorate household items, murals, sculptures and, its best known use, for adorning human sacrifices, held important symbolic value for the ancient Maya. The amazing color was extremely important for ritual.
For the Maya, blue was the color of the rain deities, particularly the god Chaahk, their rain god and the patron of agriculture.