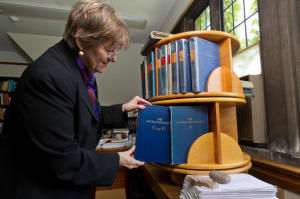 An ambitious project to identify, explain and provide citations for the words written in cuneiform on clay tablets and carved in stone by Babylonians, Assyrians and others in Mesopotamia between 2500 B.C. and A.D. 100 has been completed after 90 years of labor, the University of Chicago announced June 5.
To mark the completion of the 21-volume Chicago Assyrian Dictionary, the Oriental Institute at the University, where the project was housed, held a conference on June 6, during which scholars from around the world discussed the significance of the achievement.
"I feel proud and privileged to have brought this project home," said Martha Roth, editor-in-charge of the dictionary and dean of Humanities Division at the University of Chicago, who has been working on the project since 1979. "I feel this will be a foundation for how to do more dictionary projects in the future."
"The Chicago Assyrian Dictionary is one of the most important and unique contributions of the Oriental Institute to understanding the civilizations of the ancient Near East," said Gil Stein, director of the Oriental Institute. "The CAD is the single most impressive effort I know of to systematically record, codify and make accessible the Akkadian language that forms the heart of the textual record of civilization in the place of its birth: Mesopotamia.