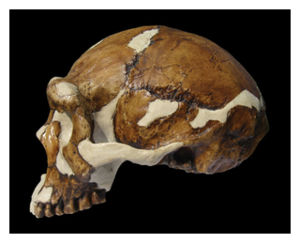 "Peking Man," a human ancestor who lived in China between roughly 200,000 and 750,000 years ago, was a wood-working, fire-using, spear-hafting hominid who, mysteriously, liked to drill holes into objects for unknown reasons.
And, yes, these hominids, a form of
Homo erectus
, appear to have been quite meticulous about their clothing, using stone tools to soften and depress animal hides.
The new discoveries paint a picture of a human ancestor who was more sophisticated than previously believed.
Peking Man was first discovered in 1923 in a cave near the village of Zhoukoudian, close to Beijing (at that time called Peking). During 1941, at the height of World War II, fossils of Peking Man went missing, depriving scientists of valuable information.
Recently, researchers have embarked on a re-excavation of the cave site searching for artifacts and answers as to how the Peking Man lived. Just as importantly, they engaged in new lab work that includes using powerful microscopes to look at artifacts made by
Peking Man
to determine how they were used, a process archaeologists called "use-wear" analysis.
On Dec. 15, four of these scientists gathered at Toronto's Royal Ontario Museum to give an update on their most recent findings. Three of the scientists, Xing Gao, Yue Zhang and Shuangquan Zhang are with the Chinese Academy of Science's Institute of Vertebrate Palaeontology and Palaeoanthropology. The fourth, Chen Shen, is a curator at the Toronto museum and a special member of the academy.
Among their archaeological findings is a 300,000-year-old "activity floor" (as the scientists call it) containing what may be a hearth and fireplace, akin to a prehistoric living room. Analysis is ongoing and Yue Zhang noted that 3D scanners are being used to map it. If the results hold up, it may prove once and for all that Peking Man was able to
control fire
, an important skill given the chilly weather at times in northern China.