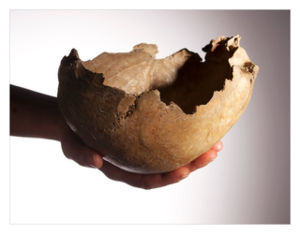 The three human braincases, two from adults and one from a child, were carefully skinned and cleaned with flint tools. The soft tissue was removed and probably consumed, leaving a well-shaped cup, perhaps made for use in some sort of ritual.
This is not a scene from a horror movie. British paleoanthropologists report their discovery of these skull-cups in the current issue of the journal
PLoS One.
The 14,700-year-old cups were found in Gough's Cave in Somerset, England, and are the oldest directly dated skull-cups known, based on radiocarbon analysis.
"It shows, really, how skilled these people were in shaping the skull, and also the fact that it was a very complex ritual," said Silvia Bello, a paleontologist at the Natural History Museum in London and the study's lead author.