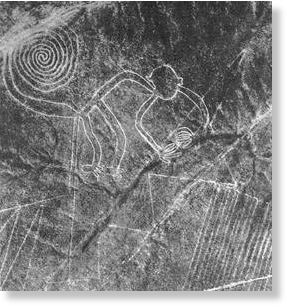 The monumental Nasca lines may not be around for long if steps are not taken, according to conservationists in the know.
Located in the arid coastal plain south of Lima, Peru, these incredible lines are only visible in their entirety from a tower, airplane or from space. Created on a gigantic scale, they consist of hundreds of simple lines, geometric shapes, and zoomorphic figures representing entities such as human figures, hummingbirds, spiders, sharks, orcas, llamas, jaguar, lizards, fish, and a monkey. Declared a UNESCO World Heritage Site in 1994, the geoglyphs or "lines" of Nasca and the pampas of Jumana are well-known to the world, and are today an important tourist destination.
These Nasca Lines, as they are popularly called, date from 500 B.C. to 500 A.D. and cover an area consisting of foothills and desert for more than 450 square kilometers. Attributed to three different stages of development corresponding to the Chavín, Paracas, and Nasca cultures respectively, they were made by removing the overlying dark sand and iron oxide gravel to expose a lighter ground underneath. Although numerous theories abound concerning their origin and meaning, many scholars suggest that they had ritual astronomical functions.