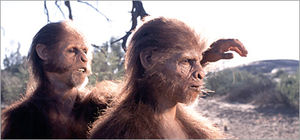 By three million years ago, the world of Lucy and Australopithecus afarensis had vanished. Hidden forces were transforming the Earth's climate, with devastating consequences for the African landscape.
Temperatures in Africa plummeted and the air became stripped of moisture. Humid woodland shrivelled away, leaving wide belts of open terrain in its place.
Spinning around
The cause of this environmental upheaval was to be found in space. The Earth orbits the Sun at a slight tilt, known as the axis of rotation. This means that as our planet spins, it points towards the Sun at some times and away from it at others. This is the origin of the seasons on Earth. Three million years ago, this axis was changing so that the Earth pointed away from the Sun for longer periods. This caused an overall cooling of the Earth, locking away moisture in ice at the North and South Poles. It also made the climate more seasonal.