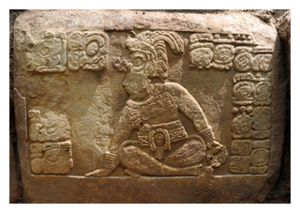 A newly discovered Mayan text reveals the "end date" for the Mayan calendar, becoming only the second known document to do so. But unlike some modern people, ancient Maya did not expect the world to end on that date, researchers said.
"This text talks about ancient political history rather than prophecy," Marcello Canuto, the director of Tulane University Middle America Research Institute, said in a statement. "This new evidence suggests that the 13 bak'tun date was an
important calendrical event
that would have been celebrated by the ancient Maya; however, they make no apocalyptic prophecies whatsoever regarding the date."
The
Mayan Long Count calendar
is divided into bak'tuns, or 144,000-day cycles that begin at the Maya creation date. The winter solstice of 2012 (Dec. 21) is the last day of the 13th bak'tun, marking what the Maya people would have seen as a full cycle of creation.
New Age believers and doomsday types have attributed great meaning to the Dec. 21, 2012 date, with
some predicting an apocalypse
and others some sort of profound global spiritual event. But only one archaeological reference to the 2012 date had ever been found, as an inscription on a monument dating back to around A.D. 669 in Tortuguero, Mexico.
Now, researchers exploring the Mayan ruins of La Corona in Guatemala have unearthed a second reference. On a stairway block carved with hieroglyphs, archaeologists found a commemoration of a visit by Yuknoom Yich'aak K'ahk' of Calakmul, the most powerful Mayan ruler in his day. The king, also known as Jaguar Paw, suffered a terrible defeat in battle by the Kingdom of Tikal in 695.