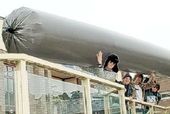 Details of a mystery cylinder floating in the sky over Torquay, star-shaped lights with vapour trails over Torbay and a silver ship hovering over Brixham are revealed for the first time today.
All three UFO incidents are included in the largest-ever release of official files on unexplained phenomena.
But the
Herald Express
had already solved one of the 'mysteries' seven years ago thanks to a group of local teenagers and a £13 balloon.
Files released today by The National Archives reveal how UFOs were discussed at the highest level worldwide.
Among the files is a sighting reported by an un-named man from Torquay.
He wrote: "On April 28 1967 I, along with 100 others including schoolteachers, witnessed a silver UFO pass over Torquay at approximately 11.30am.
"The UFO traveled towards Brixham, where it remained stationary for approximately one hour.
"The object was observed by Brixham Coastguards, which was reported to the RAF in Plymouth.
"The object, after remaining stationary over the town, proceeded to fly off."