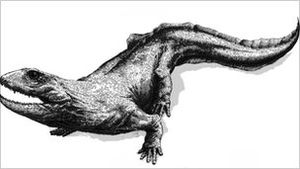 A collection of fossils described as a breakthrough in the study of evolution is set to be unveiled.
The fossils, discovered in the Borders, are going on display at the National Museum of Scotland in Edinburgh.
The find is said to unearth a "missing chapter" of the evolution story and overturn a long-held theory about evolution on Earth.
Scientist and broadcaster Sir David Attenborough described the discovery as "wonderful and exciting".
Romer's Gap, named after the American palaeontologist Alfred Sherwood Romer, is a gap in the fossil record, showing little evidence of life on land between around 345 and 360 million years ago.