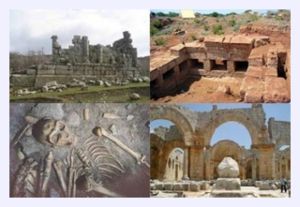 Syria (Lattakia) - Director General of the Department of Archaeology and Museums Bassam Jamous affirmed that humans inhabited Syria one million years ago on the banks of Orontes, Euphrates and the Great Northern River and later the Syrian Desert.
In a lecture on new archeological finds in Syria during the past ten years, Jamous pointed out that recent studies revealed that humans settled in al-Dedariya Cave north of Aleppo, central Syria, where human skeletons dating back to 100,000 years ago.
Over the past ten years, the Department of Archaeology and Museums documented over 10,000 archaeological sites across Syria, 600 of which date back to prehistory.
Jamous noted that recent discoveries prove that the first villages with circular houses were established during the 10th millennium BC in the middle Euphrates area and Jadet al-Magharra site in Aleppo countryside.
In Damascus Countryside, three sites were discovered: Tal Aswad, a-Ramad and Ghrefi. They contain several buildings indicating urban development dating back to the 7th millennium BC.
In 2010, the Department announced the discovery of a village called "al-Jerf al-Ahmar" on the banks of the Euphrates, which showed an example of a pictography predating hieroglyphs. The village contained circular houses without pillars that are still standing after 11,000 years.