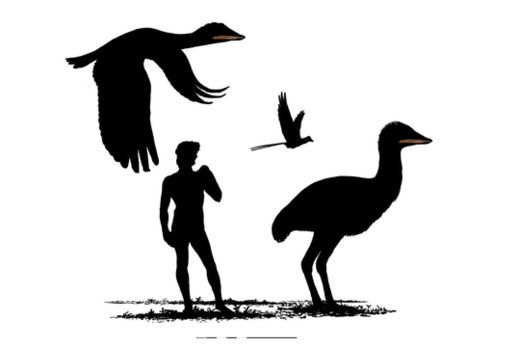 An enormous bird, taller than an adult human, walked the Earth (and maybe flew above it) more than 80 million years ago, according a newly discovered fossilized jaw. The finding suggests oversize birds were more common during the Age of Dinosaurs than scientists thought.
Scientists have long known that birds, or avian dinosaurs, lived during the Mesozoic, the era when dinosaurs ruled the Earth. Although researchers have discovered numerous Mesozoic bird species, these were virtually all the size of crows or smaller.
The ostrich-size
Gargantuavis philoinos,
was known from France, dating back from the Late Cretaceous near the end of the Age of Dinosaurs. However, it was uncertain whether or not it was the lone exception among its puny relatives. Now another has popped up in Central Asia, revealing
giant birds were no flukes.
"Big birds were living alongside Cretaceous non-avian dinosaurs," researcher Darren Naish, a vertebrate paleontologist at the University of Portsmouth in England, told LiveScience. "In fact, these big birds fit into the idea that the Cretaceous wasn't a 'non-avian-dinosaurs-only theme park' - sure, non-avian dinosaurs were important and big in ecological terms, but there was at least some 'space' for other land animals."