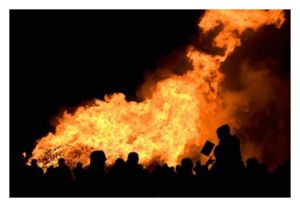 Most Americans have read about the Salem witch trials in their history classes. Outside of religious beliefs that led to hysteria, it is difficult to imagine what might have sparked the insanity of 1692 as transplants from Puritan England fought to survive in a foreign and often inhospitable land. But there are a few researchers who have come up with a possible cause - ergot poisoning.
When religious beliefs spark a deadly explosion
Certainly people of the 17th Century were familiar with madness, but to the unenlightened, mental and emotional problems were linked to an evil force possessing the soul.In 1692, scientific thinking was only recognized by scholars and not by the superstitious and poorly educated settlers who huddled in fear at the thought of evil spirits holding sway over their lives. If they had been open-minded enough then perhaps they would have made a connection between the symptoms and the effects of eating tainted food.
Tainted food, tainted ideas
The year 1692 was hardly situated in an era of sound thinking. With the Age of Reason far off in the future, the Puritan settlers strongly believed in religious notions of devils, witches, spells, and possessed souls. As a result, nineteen men and women were convicted of witchcraft in Salem and marched to Gallows Hill for public hanging. Plus there were scores of tortures including one of a man more than eighty years old who was crushed to death under heavy stones for refusing to admit he was guilty of practicing witchcraft. The madness spread throughout New England. And it was madness it was in the greater sense of the word.