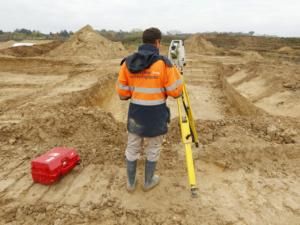 Changis-sur-Marne, France - French archaeologists have uncovered a rare, near-complete skeleton of a mammoth in the countryside near Paris, alongside tiny fragments of flint tools suggesting the carcass may have been cut into by prehistoric hunters.
The archaeologists say that if that hypothesis is confirmed, their find would be the clearest ever evidence of interaction between mammoths and ancient cavemen in this part of Europe.
"Evidence this clear has never been found before, at least in France," said Gregory Bayle, chief archaeologist at the site.
"We're working on the theory that Neanderthal men came across the carcass and cut off bits of meat."
Archaeologists came across the giant bones by accident while they were excavating ancient Roman remains in a quarry near the town of Changis-sur-Marne, 30km east of Paris.